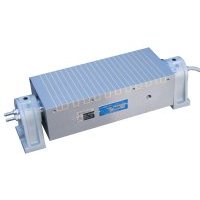 KCT-1535UF


[Application]
Since no heat is generated when the power is on, this model is suitable for high precision angle grinding.
[Features]
Cooling water flows through the internal coils in the chuck, a proven Kanetec original design.
Since the cooling hose is connected to the shaft, a desired tilting range can be set.
The hose does not become an obstacle regardless of tilting angles of the work face. Grinding at a tilted angle can be carried out without paying attention to the hose location.
Cooling water is let flow inside the chuck to cool the coil directly and grinding fluid cools the top surface. This design minimizes temperature rise, thus minimizing accuracy change of the chuck.