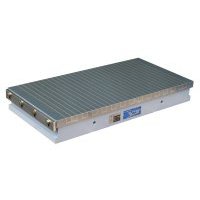 KET-3060F


[Application]
Most widely used electromagnetic chucks for grinding operations.
[Features]
High Rigidity, High Reliability and High Accuracy!
Kanetec,s original machining technology is used to realize a lavish body-to-case one piece hollow construction, instead of a welding construction, to enhance the rigidity, minimize change with time passage and improve accuracy of the chucks.
Kanetec's Original Light-Weight Design!
The chuck weight has been reduced as much as possible in consideration of driving the table of grinders. This design helps contribute to a longer service life of grinders.
Simple Thin Type yet Strong Holding Power!
The chucks have been designed as low as possible to increase a workpiece mounting space on the grinder. The total height is as short as 70 mm to 80 mm for small and medium types and 85 mm for large types, thus various types of workpieces can be held. Though thin, Kanetec,s original design to secure an electromagnetic coil space ensures strong holding power.