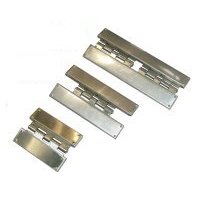 KPM-BW12A/KPM-BW18/KPM-BW24
[Application]


Most suitable for collecting sludge in a circulating liquid tank.



[Features]



As it is hinge type, it can be installed at any of such variable locations as corner in a tank or overfl ow part of separation plate.
By attaching wire or chain through a hook hole of hinge, it becomes easy to be taken out from the inside of a tank.
Not only sunk but also fl oating sludge can be collected.