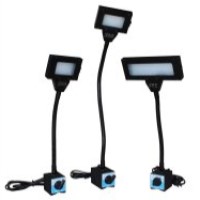 ME-LED-55A/ME-LED-55LA/ME-LED-10
[Application]


Used for area lighting over a work table or machine tool. Also usable as a table light on a steel desk.



[Features]



The high brightness LED 10 lights are used which consume as little electricity as 5W/10W.
The LED lighting part is of one-piece special construction; light weight and compact.
All models use only 21.5-mm thin lighting, requiring no wide space for mounting.
The strong magnetic force allows these stands to be mounted not only on a horizontal surface, but on an inclined surface easily. The flexible tube offers freely selectable lighting angles.