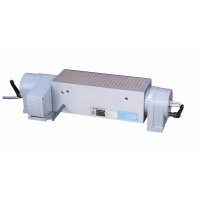 SBC-1131UFL-C


[Application]
Constructed to enable real-time internal cooling of heat generated when power is applied to the electromagnet, making these models suitable for higher precision grinding requirements.
[Features]
Change in precision is minimized by feeding the coolant inside chuck to cool the coil and prevent temperature rise. Water flow 2 to 4 L/min.
The mechanical functions and features are almost the same as those of Model SBE chucks.